Closer Look At: The Core Method – Dynamic Football Trading
Welcome to the new strategy analysis section of STL. A look at the strengths and weaknesses of various Betfair Trading Strategies that are available across the web.
 The Core Method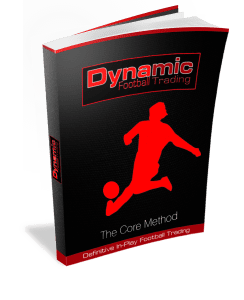 The Core Method strategy is a football trading strategy included in the Dynamic Football Trading Package authored by Steven Hall.
 This strategy focuses on trading the Match Odds market and has an average risk-reward ratio of 1:1 which means you will be often be risking the same amount as you can potentially win on average. Therefore a strike rate above 50% is what is needed to be long term profitable with this particular strategy.
 Without giving too much away to protect the paying customers, the main entry point for this strategy can be at anytime during the 90 minutes and is after a key incident in the match. You are not involved in the market from kick off and if this key incident does not happen until even the 80th minute you may not be getting involved often. So you can spend time profiling a match correctly only for the key incident not to take place and no action to follow. Nothing wrong with this unless you are an action junkie but it does highlight the need to use this strategy as part of a portfolio rather then as a sole method. From seeing the members zone selections that fit this method there are many days with no picks made but weekends usually find more then a few that fit.
 This strategy guide also includes "profit acceleration" methods and I like the look of these. These are additional strategies that you can use alongside the core method in order to make bigger profits. These all make great sense and are often used in the closing stages of a match only when you are already in profit. Therefore, this can increase your usual risk-reward ratio on this strategy and when you get the "perfect" trading match you can easily make 3-4 times your initial risk. This is a much better return then the old lay the draw techniques.
 The bad points about the core method can be the strike rate. Obviously if something is profitable long term the strike rate does not matter but for someone new to trading this can cause frustration. You only need to win 55% of your trades to be profitable with the strategy but since only certain matches fit the criteria it means there can be long losing runs and several days at a time. I can imagine this will be hard to handle for some.
 The author does say what to do in most scenarios but this often covers watching the match live. I would have been interested to know what to do in a 1-0 or 0-1 scenario going deep into the 2nd half. I emailed the author who said that in that scenario just let it run if you can not see the action. This has paid off quite a few times for me as the goal that was needed arrived but when it didn't it made me feel like I should have done something else to stop it. I guess you can not win them all and no strategy has an answer for everything although it is something core method users could think about as it does seem like 1-0 is the dangerous type of scoreline with this method.
 Overall, the core method strategy is a good strategy to be used as part of a portfolio. It can be fun when you catch the right in-play matches and very profitable too. If you do not like to risk more then you can potentially win then this is the type of strategy you should be looking for.
You can read more about my Core Method and other strategies in my Dynamic Football Trading Package.  For a limited time only, use promo code STL25 to receive a 25% discount.
-----------------------------------------------------------------------
Want to learn HOW to make Tennis Trading Profits Like This?
BOOK A FREE SEAT!
We are holding a special tennis trading masterclass virtual event where you can look over the shoulder and see us make over £2157 in tennis trading profits.
Price: FREE
LOCATION: Your Home!
Next showing starting soon...
BOOK A FREE SEAT!
-----------------------------------------------------------------------