6 [HIDDEN] Betfair Account Tips, Tricks & Hacks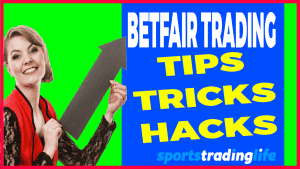 I get many emails from newbies starting out and I realise they have not even activated a something like the "what if" function in their Betfair account.
At the end of the day if nobody shows you then you might never know it existed.
So this made me realise that a video showing some of the common tips, tricks and hacks that you can do within your Betfair account could be very useful.
So here it is below.
This also shows you how to bet below the minimum stake too. Watch and learn. 🙂
-----------------------------------------------------------------------
Want to learn HOW to make Tennis Trading Profits Like This?
BOOK A FREE SEAT!
We are holding a special tennis trading masterclass virtual event where you can look over the shoulder and see us make over £2157 in tennis trading profits.
Price: FREE
LOCATION: Your Home!
Next showing starting soon...
BOOK A FREE SEAT!
-----------------------------------------------------------------------